This handcrafted 3-panel natural rattan screen has wonderfully handwoven diamond pattern that creates a pleasing room break for most living areas of your home. Whitewash or Pecan finish. A high arching rattan frame provides the strength that's demanded in this elegant European styled bench. This bench is accented with woven wicker caning and includes an upholstered seat in your choice of standard fabric. Dark Brown finish.
To make your fabric selection, we offer the following options:
(1) Click here for our complete Online Swatch Book;
(2) For $55 (refundable) you can order our Swatch Book containing over 100 designer fabrics (UPS $10).
With Coupon code, you pay only
$173.25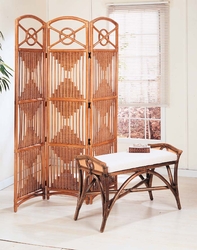 With Coupon code, you pay only
$202.50
With Coupon code, you pay only
$227.25